Handcrafted All-Natural Solid Wood Creations
Luis Gonzalez's mastery of this process has led to the creation of sculptures that combine exceptional craftsmanship, sustainability, and visionary artistry.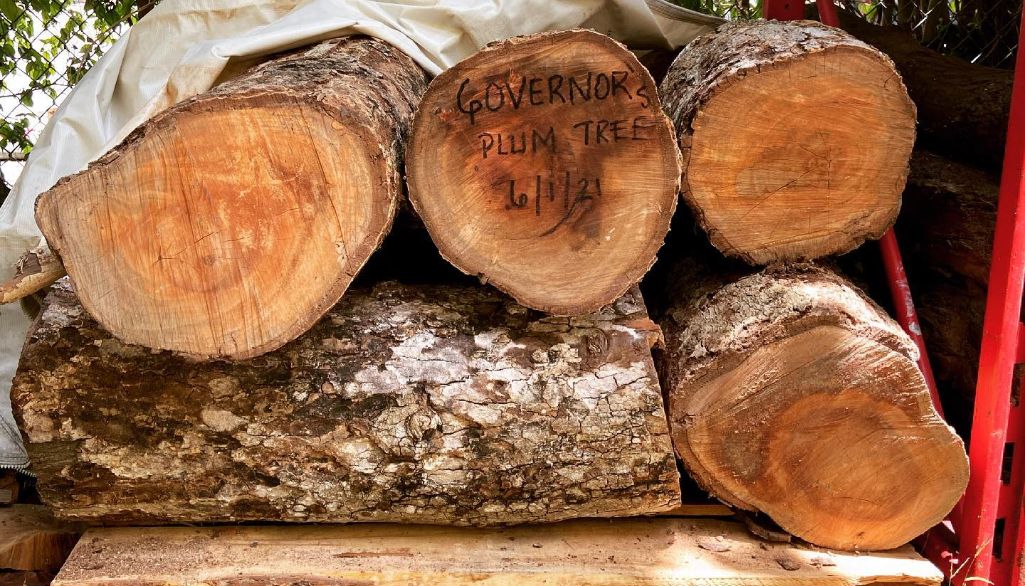 The wood that serves as the base material for the sculptures is acquired by trees that were previously harvested or downed by natural disasters. The artist personally forages these pieces throughout the South Florida area and repurposes them for use in his sculptures. These locally sourced woods come from a variety of plants, and include mahogany, tropical almond, wild tamarind, Indian rosewood, and Governor plum, among others. The unique variety of wood allows for each piece to be truly durable, unique, and one of a kind. 
After collection, the wood is cleaned, trimmed, labeled, and prepared for the first drying stage. After a few years, the dried wood is now ready for the next step of this lengthy process. Each individual wood piece is shaped using a lathe, a machining tool that performs different functions, including rotating the raw wood into a cylindrical form. Each cylinder of wood is labeled and dated, and the drying process continues for approximately three more years. After the long and patient wait, the raw solid wood is finally ready to be turned into a sculpture.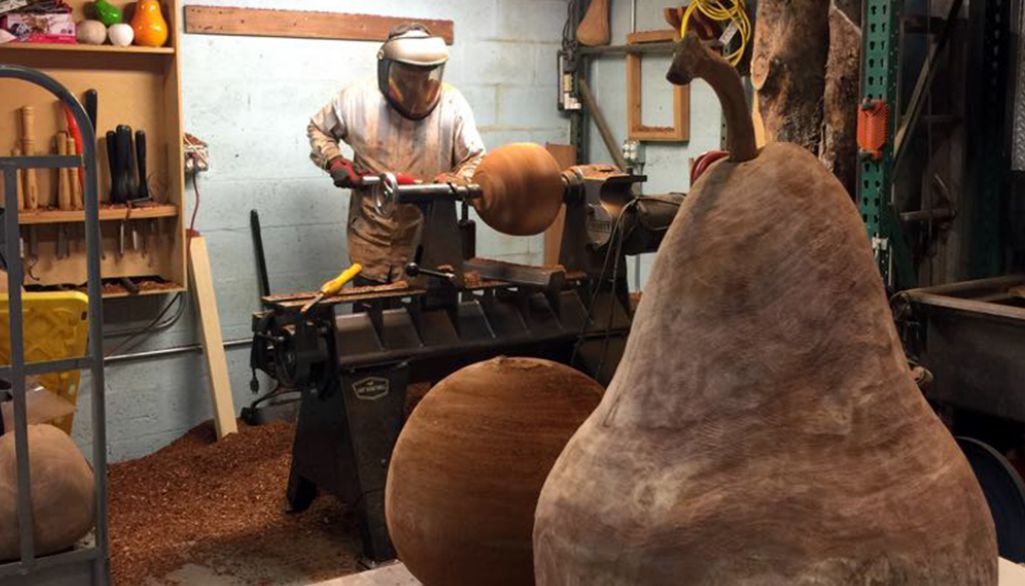 After the modeling stage is finished, the sculpture in progress is sanded until smooth, creating a seamlessly even surface. A base paint primer is then applied, prior to the application of rich color that brings these pieces to life in vibrant detail and unique textural variation.
With a proven combination of artistic techniques designed to provide superior durability, paint is meticulously applied, using acrylic, oil, water-based, or a mix of these as necessary. After 8 days, the paint is fully dry and ready for the clear lacquer, applied as the finishing touch. Each sculpture receives about 10 – 15 coats of the high-quality industrial clear lacquer, in order to achieve the desired lustrous and glossy shine. Each coat is allowed to fully set and dry before moving on to the next application, and is sanded until a perfectly smooth, shiny texture is achieved and the sculpture is complete.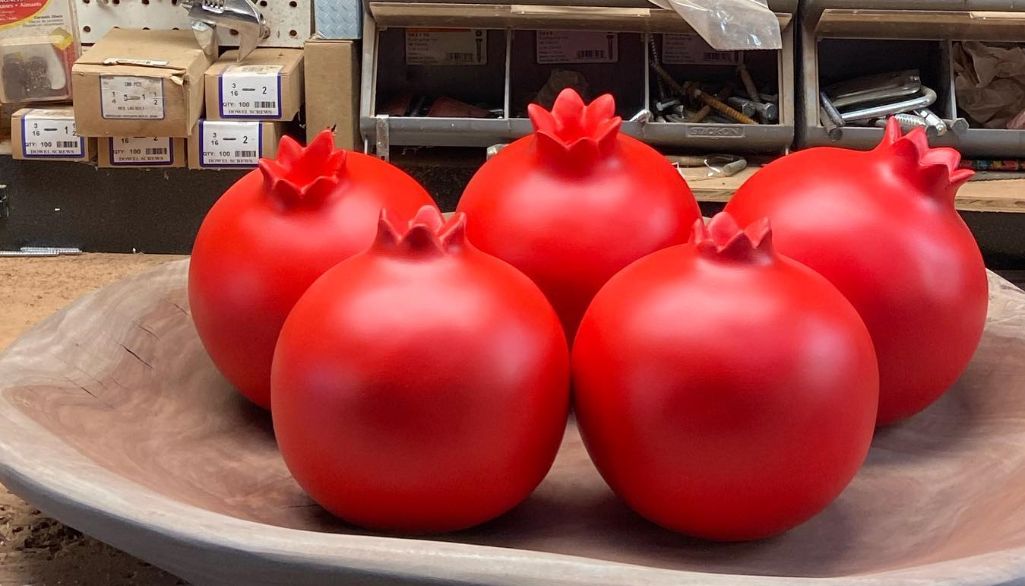 After the modeling stage is finished, the sculpture in progress is sanded until smooth and the surface is seamlessly even. A base paint primer is then applied prior to the application of rich, vibrant color schemes that bring these pieces to life.
A proven combination of painting techniques that benefit the durability of each individual work of art is meticulously brushed on, using acrylic, oil, water-base or a mixture of these. It usually takes about 8 days for the paint to completely dry before a clear lacquer is used for the finish. To give each sculpture that lustrous shine, 10 to 15 coats are applied. Using a high-quality, industrial clear lacquer, each coat is dry between applications and sanded when needed until the sculpture is complete.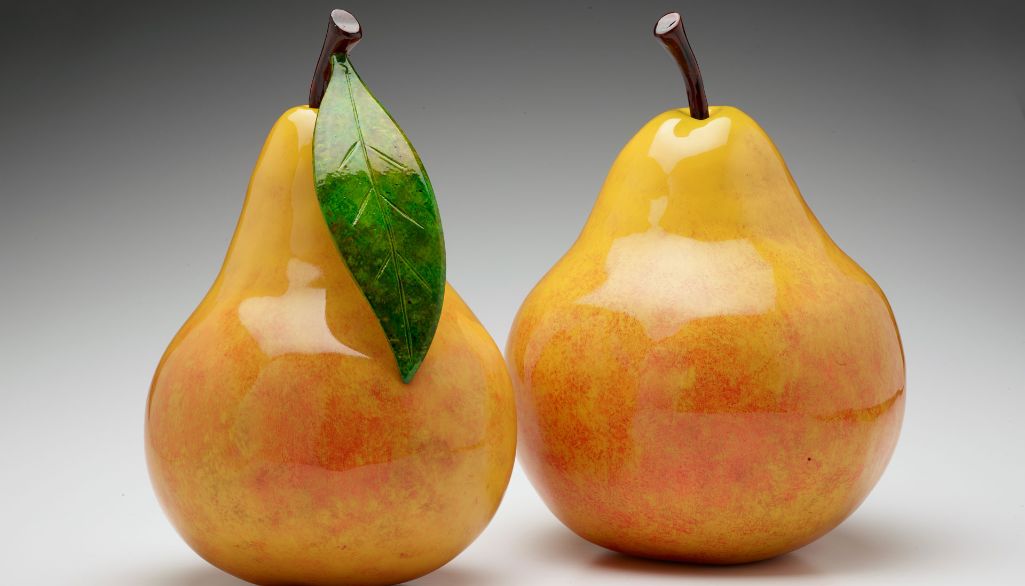 The Fruit Sculptures are offered in a variety of sizes and styles, providing an array of options to fit any home décor style. The four sizes available include Junior (approx. 3" high), Natural ("real-life" fruit size), Giant (approx. 7" high), and Mega (approx. 12" – 14" high). The stems and leaves of each piece perfectly complement the size of the fruit and are given a realistic appearance with color variations and visual fluidity. There is also an available option to have the stem and leaf of your sculpture accented in pewter for a modern touch. Whichever option you choose, these sculptures are handcrafted to add a perfect pop of color and dimension to your kitchen, dining room, or any other area within your home's interior.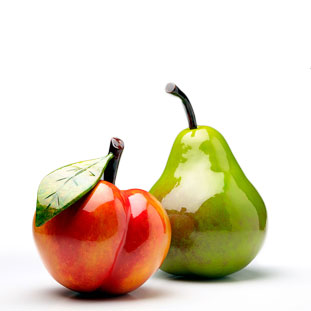 The Fruit Sculptures Collection Is Available For Commissions
All pieces within the Fruit Sculptures Collection are available to be commissioned upon request. Each piece can be completely customized to the needs of the client, with handcrafted quality that is 100% guaranteed by the artist. Due to the natural raw materials used, each piece is always unique and will contain slight variations in texture and color. Please submit an inquiry for further information on commissioned art pieces, pricing, and the custom ordering process.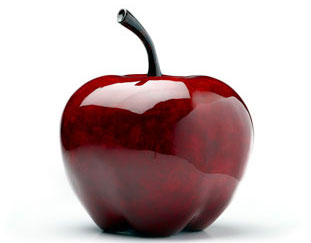 Call us to arrange a meeting and visit our studio.